Our Story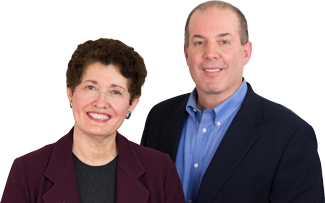 Founded by Lillian Shapiro and Tom Ceconi, a pair of entrepreneurs with more than 20 years of experience in providing HR and employee benefits guidance online, HR360 was developed to streamline everything employee related. As small business owners, Lillian and Tom also know what it takes to build a company, create a product, pay vendors, satisfy clients and turn a profit. And while employees are critical to a company's success, managing them takes effort and expertise. HR360 simplifies the process, prevents potential employee lawsuits, saves business owners time and allows them to focus on what they do best: growing their businesses.
A Team of Experts on Your Side
Our team of attorneys, human resources specialists and editors spend our days providing clear, concise guidance on employment laws, news and HR best practices. It's all we do and it is our passion. We work round-the-clock to deliver our service over the Web in real time; you won't miss a thing.
We Protect Your Investment
Your company is more than just a job…it's your passion. It's also likely the biggest investment you've ever made in both time and money, and as such deserves to be protected. Failing to comply with constantly changing employment laws -- federal and state labor laws, Health Care Reform etc. -- poses a risk you can't afford to take.

HR360 is your blueprint to navigating the complex world of human resources. Inside our site you'll find everything you need to quickly and effectively manage your staff, whether you've got five employees or 500 employees.

Our award-winning site acts like your online HR department delivering the step-by-step guidance and tools when and where you need it including:
Health Care Reform guidelines

Hundreds of downloadable forms

Interactive HR apps including a job description builder, salary benchmarking tool and employee performance review builder

Step-by-step guides for interviewing, hiring, terminating and performance reviews

All-in-One federal and state labor law posters
We're Here for You



Every business is different, and every situation or concern is unique. We'd love to chat, so call or email us. Even better, if you're in the Norwalk, Connecticut area, come visit our offices. We're confident we can customize a solution that works for you.